hotels and apartments
sport and leisure
localities
information
Apartments Campicioi

Pinzolo (Pinzolo - Val Rendena) - Via Nepomuceno Bolognini, 88-92


Telephone: (+39) 04653240... (+39) 0465324077 / (+39) 3487704236
www.vacanzepinzolo.it - info@vacanzepinzolo.it
Apartments - Offered treatments: SC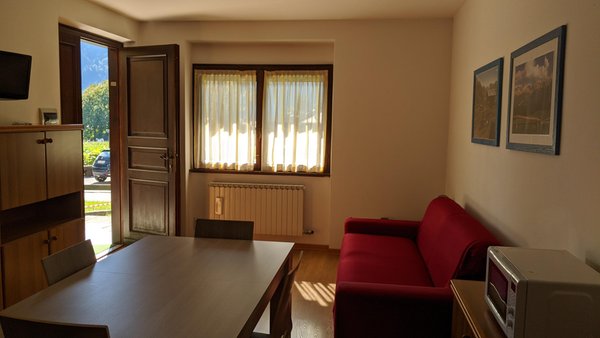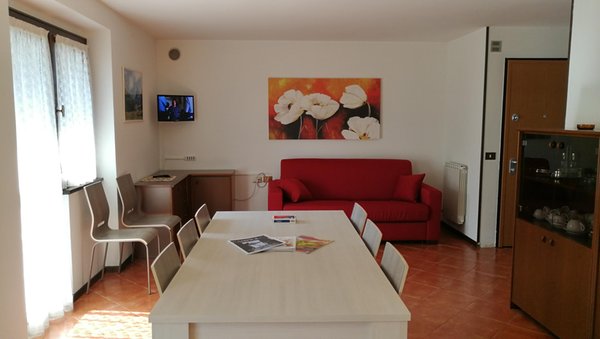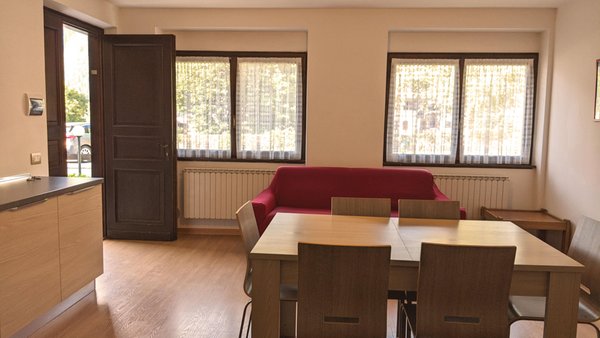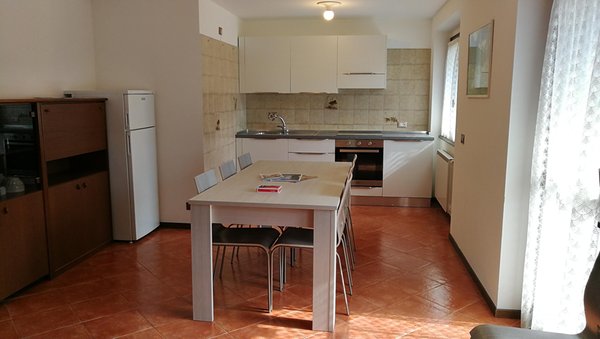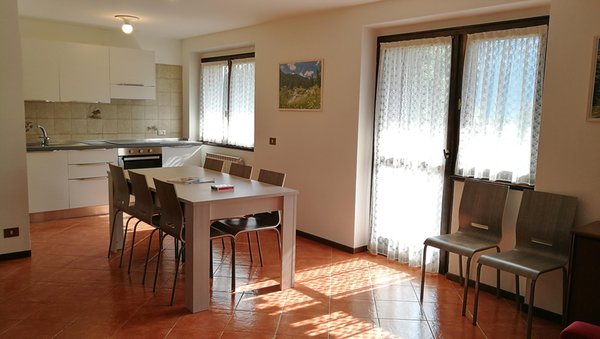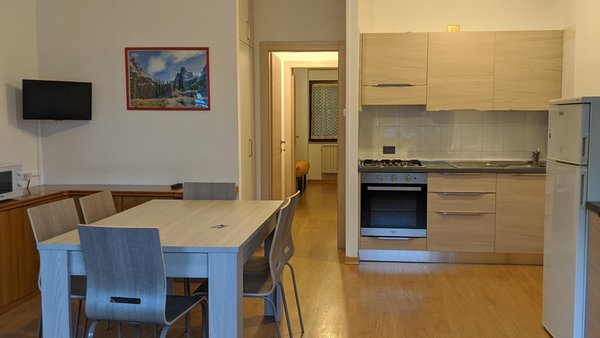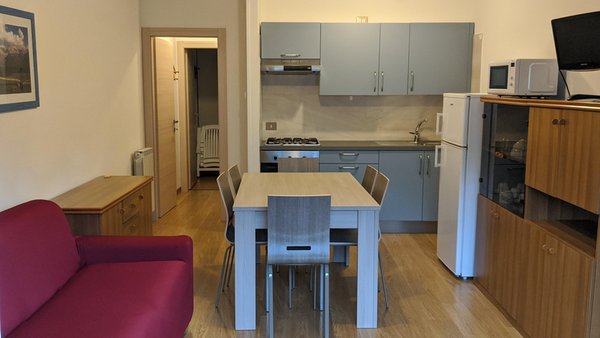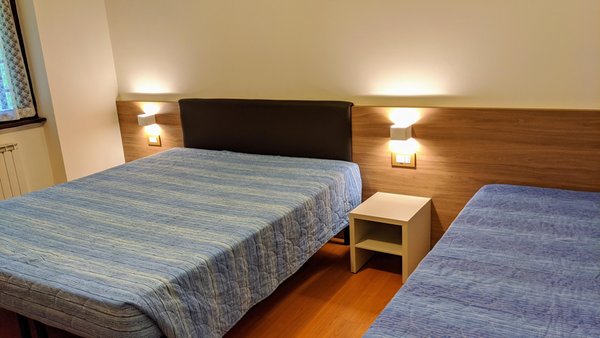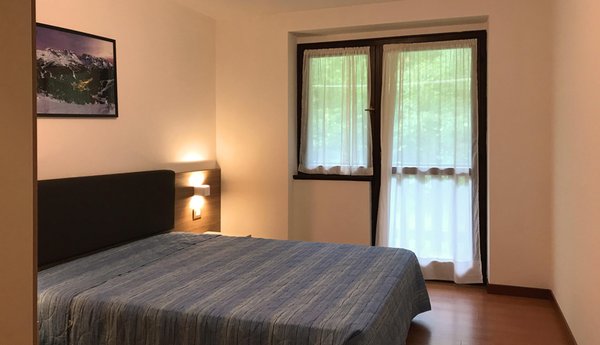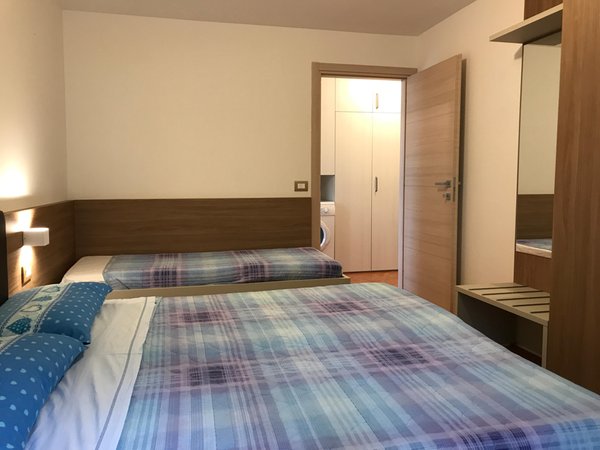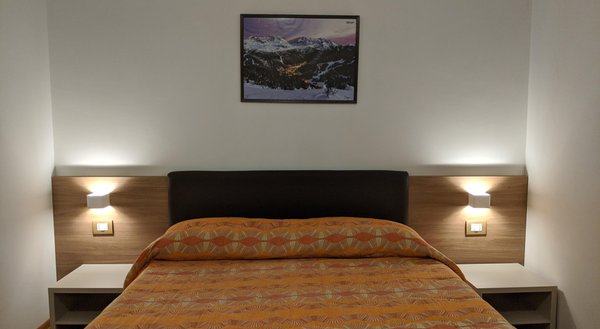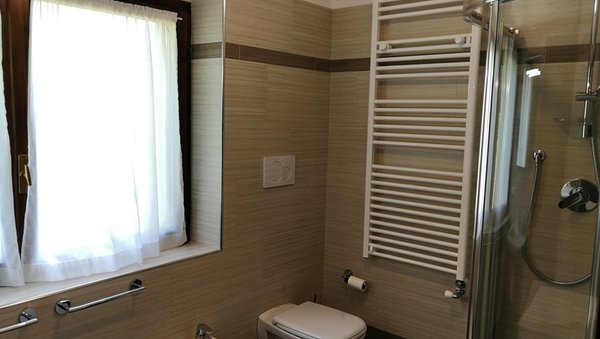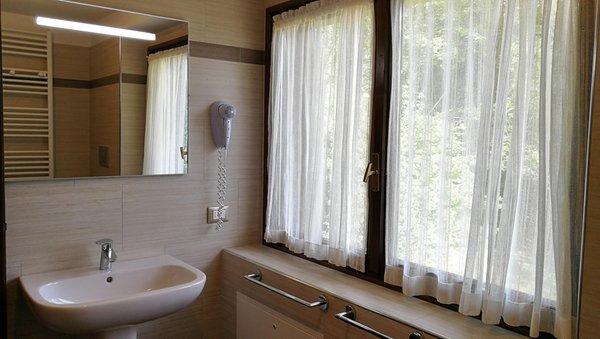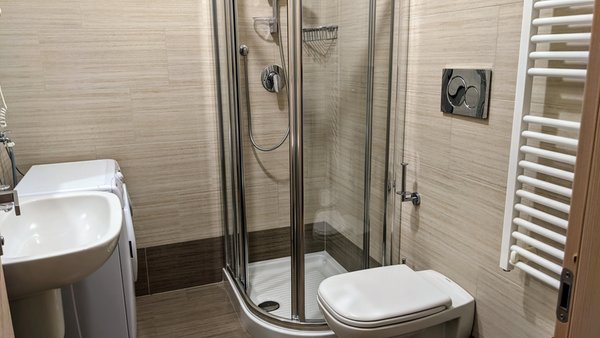 Apartments for rent in Pinzolo, in a very sunny position, with a wide view of the center, 200 meters from the ski lifts of Skirama Pinzolo - Madonna di Campiglio - Folgarida and at a short distance from the Val Rendena cycle path. The town center is at just 600 meters and can be reached in five minutes on foot along a flat sidewalk.
There are two-room apartments for 4 people and three-room apartments for six people. Each apartment has its own room for storing ski equipment, mountain bikes etc. The apartments are equipped with kitchenware, television, washing machine, oven, iron and hairdryer. In winter there is a room with warm air ski boot dryer.
Externally there are many private parking spots.
Free WiFi in all rooms.

Licence / identification code: CIPAT App. trilocale 1° piano 022143-AT-056049, App. bilocale n.22 022143-AT-056050, App. bilocale n.24 022143-AT-056051, App. bilocale n.25 022143-AT-056052, App. trilocale 2° piano 022143-AT-056054
| | |
| --- | --- |
| General information | at 800m a.s.l., 200m from the bus stop |
| Facilities | open parking space, garden at guests' disposal |
| In room/apt. | TV, hairdryer, washing machine, drying rack |
| Further services for apartments | seasonal letting, bed linen and towels, shared washing machine |
| Internet | Wi-Fi gratis in room/apartment |
| Children | family-friendly accommodation |
| Pets | small pets allowed |
| Payment methods | no card payment accepted |
| Bike | locked bicycle storage, info, maps and charts for bike excursions |
| Motorbike | motorcycle parking space in a garage |
| Ski | skiroom with ski boot heater, slopes are easily reachable on foot (200m), closest cross-country trails at 3km |
Deals and last minute offers

27 Aug - 03 Sep 2022 at least 7 nights
Holiday for families
Deal: Bilocale prima settimana di agosto
description in Italian
from 450€
per week
per apartament
overnight stay
Details
Availability and approximate prices
Check availability and see prices
2 x Three room flats 1st and 2nd floor (Apartment)

https://images.yesalps.com/hp/563810/232906_zona-giorno.jpg

SP

{"S": 6, "M": 8, "B": 0, "N": false}

75 m2

[{"id": "MTR", "qta": 2}, {"id": "CST", "qta": 1}, {"id": "DVLM", "qta": 1}]

[{"id": "camera", "index": 1, "letti": [{"id": "MTR", "qta": 1}, {"id": "CST", "qta": 1}], "kitchenette": false}, {"id": "camera", "index": 2, "letti": [{"id": "MTR", "qta": 1}], "kitchenette": false}, {"id": "soggiorno", "letti": [{"id": "DVLM", "qta": 1}], "kitchenette": true}]

2 bathrooms (WC, shower, bidet - WC, shower, bidet)

Apartments on the first and second floor, very bright and sunny, with a balcony in the living room and the bedrooms, living room with kitchenette and double sofa bed. Ski/mountain bike storage room in the basement. Free WiFi.

[0, 1, 2]

[{"id": 232906, "url": "https://images.yesalps.com/hp/563810/232906_zona-giorno.jpg", "width": 600, "height": 339}, {"id": 232911, "url": "https://images.yesalps.com/hp/563810/232911_cucina.jpg", "width": 600, "height": 339}, {"id": 232912, "url": "https://images.yesalps.com/hp/563810/232912_cucina.jpg", "width": 600, "height": 339}, {"id": 358733, "url": "https://images.yesalps.com/hp/563810/358733_cucina.jpg", "width": 600, "height": 338}, {"id": 345489, "url": "https://images.yesalps.com/hp/563810/345489_camera-residencecampicioi.jpg", "width": 600, "height": 345}, {"id": 345490, "url": "https://images.yesalps.com/hp/563810/345490_camera-residencecampicioi.jpg", "width": 600, "height": 450}, {"id": 358734, "url": "https://images.yesalps.com/hp/563810/358734_camera-residencecampicioi.jpg", "width": 600, "height": 343}, {"id": 358735, "url": "https://images.yesalps.com/hp/563810/358735_camera-residencecampicioi.jpg", "width": 600, "height": 338}, {"id": 232907, "url": "https://images.yesalps.com/hp/563810/232907_bagno.jpg", "width": 600, "height": 339}, {"id": 232908, "url": "https://images.yesalps.com/hp/563810/232908_bagno.jpg", "width": 600, "height": 339}, {"id": 233188, "url": "https://images.yesalps.com/hp/563810/233188_balcone.jpg", "width": 600, "height": 335}, {"id": 358732, "url": "https://images.yesalps.com/hp/563810/358732_parcheggio.jpg", "width": 600, "height": 400}, {"id": 358736, "url": "https://images.yesalps.com/hp/563810/358736_parcheggio.jpg", "width": 600, "height": 400}]

3 x Two-room apartment

https://images.yesalps.com/hp/563810/358723_soggiorno.jpg

SP

{"S": 4, "M": 6, "B": 0, "N": false}

56 m2

[{"id": "MTR", "qta": 1}, {"id": "CST", "qta": 1}, {"id": "DVLM", "qta": 1}]

[{"id": "camera", "letti": [{"id": "MTR", "qta": 1}, {"id": "CST", "qta": 1}], "kitchenette": false}, {"id": "soggiorno", "letti": [{"id": "DVLM", "qta": 1}], "kitchenette": true}]

2 bathrooms (WC, shower, bidet - WC, shower, bidet)

Two-room apartments on the ground floor, with living room with kitchen, bathroom with window, free WiFi. Ski/mountain bike storage room in the basement.

[0, 1, 2]

[{"id": 358723, "url": "https://images.yesalps.com/hp/563810/358723_soggiorno.jpg", "width": 600, "height": 338}, {"id": 345506, "url": "https://images.yesalps.com/hp/563810/345506_zona-giorno.jpg", "width": 600, "height": 338}, {"id": 345507, "url": "https://images.yesalps.com/hp/563810/345507_zona-giorno.jpg", "width": 600, "height": 338}, {"id": 358760, "url": "https://images.yesalps.com/hp/563810/358760_appartamento-pinzolo-valrendena.jpg", "width": 600, "height": 338}, {"id": 358721, "url": "https://images.yesalps.com/hp/563810/358721_cucina.jpg", "width": 600, "height": 338}, {"id": 358722, "url": "https://images.yesalps.com/hp/563810/358722_cucina.jpg", "width": 600, "height": 338}, {"id": 345502, "url": "https://images.yesalps.com/hp/563810/345502_camera-residencecampicioi.jpg", "width": 600, "height": 338}, {"id": 345503, "url": "https://images.yesalps.com/hp/563810/345503_camera-residencecampicioi.jpg", "width": 600, "height": 338}, {"id": 345504, "url": "https://images.yesalps.com/hp/563810/345504_camera-residencecampicioi.jpg", "width": 600, "height": 329}, {"id": 345509, "url": "https://images.yesalps.com/hp/563810/345509_camera-residencecampicioi.jpg", "width": 600, "height": 338}, {"id": 254391, "url": "https://images.yesalps.com/hp/563810/254391_bagno.jpg", "width": 600, "height": 339}, {"id": 358730, "url": "https://images.yesalps.com/hp/563810/358730_bagno.jpg", "width": 600, "height": 338}, {"id": 358731, "url": "https://images.yesalps.com/hp/563810/358731_bagno.jpg", "width": 600, "height": 339}]

1 x Three-room apartment ground floor

https://images.yesalps.com/hp/563810/233240_zona-giorno.jpg

SP

{"S": 6, "M": 8, "B": 0, "N": false}

70 m2

[{"id": "MTR", "qta": 2}, {"id": "CST", "qta": 1}, {"id": "DVLM", "qta": 1}]

[{"id": "camera", "index": 1, "letti": [{"id": "MTR", "qta": 1}, {"id": "CST", "qta": 1}], "kitchenette": false}, {"id": "camera", "index": 2, "letti": [{"id": "MTR", "qta": 1}], "kitchenette": false}, {"id": "soggiorno", "letti": [{"id": "DVLM", "qta": 1}], "kitchenette": true}]

bathroom (with WC, shower, bidet)

Spacious three-room apartment on the ground floor with living room with kitchenette, bathroom with window, free WiFi. With ski/mountain bike storage room in the basement.

[0, 1, 2]

[{"id": 233240, "url": "https://images.yesalps.com/hp/563810/233240_zona-giorno.jpg", "width": 600, "height": 339}, {"id": 233241, "url": "https://images.yesalps.com/hp/563810/233241_zona-giorno.jpg", "width": 600, "height": 339}, {"id": 233242, "url": "https://images.yesalps.com/hp/563810/233242_zona-giorno.jpg", "width": 600, "height": 339}, {"id": 233239, "url": "https://images.yesalps.com/hp/563810/233239_cucina.jpg", "width": 600, "height": 339}, {"id": 345498, "url": "https://images.yesalps.com/hp/563810/345498_camera-residencecampicioi.jpg", "width": 600, "height": 337}, {"id": 345499, "url": "https://images.yesalps.com/hp/563810/345499_camera-residencecampicioi.jpg", "width": 600, "height": 337}, {"id": 345500, "url": "https://images.yesalps.com/hp/563810/345500_camera-residencecampicioi.jpg", "width": 600, "height": 337}, {"id": 233232, "url": "https://images.yesalps.com/hp/563810/233232_bagno.jpg", "width": 600, "height": 339}, {"id": 233233, "url": "https://images.yesalps.com/hp/563810/233233_bagno.jpg", "width": 600, "height": 339}, {"id": 233234, "url": "https://images.yesalps.com/hp/563810/233234_bagno.jpg", "width": 600, "height": 400}, {"id": 233235, "url": "https://images.yesalps.com/hp/563810/233235_bagno.jpg", "width": 600, "height": 345}]
Availability and approximate prices
The availability and the prices are entered and updated by the accommodation they refer to. As these data are subject to continuous changes, the definitive availability and price must be agreed directly with each accommodation. The minimum and maximum prices can take into consideration only the most common services and conditions of the accommodation; in case of different solutions the prices may differ from the specified range. The indicated prices may not take into consideration several factors, therefore the final price and the details must be agreed directly with each lodging facility. The indicated prices may not include possible costs for final cleaning service or tourist taxes.
Other rooms

:

Available treatments

:

Description

:
Reviews
This business activity has no reviews yet.
Write the first positive review, share your experience!
Map
Apartments Campicioi
Via Nepomuceno Bolognini, 88-92
Pinzolo (Pinzolo - Val Rendena)
GPS coordinates
lat: 46.1665° N lon: 10.7649° E
lat: 46° 9' 59.7'' N lon: 10° 45' 53.8'' E
Information about the location: at 800m a.s.l., 200m from the bus stop, slopes are easily reachable on foot (200m), closest cross-country trails at 3km.