hotels and apartments
sport and leisure
localities
information

Your search
Ossana - Pellizzano: Hotels, B&B, Residence and holiday apartments
As you enter the hotel, you will immediately feel the natural warmth of the place and the people who live and work here. The managers' painstaking attention to detail has allowed them to create a setting in which their guests are happy with their holiday.
deals
01/12 - 20/12/2021

from 289€ for 4 nights

03/12 - 25/12/2021

from 46€ per night

18/12 - 26/12/2021

from 426€ for 4 nights
Characteristics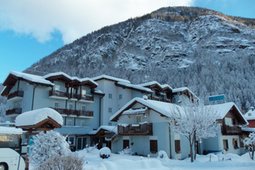 The Hotel Santoni is located in the small town of Fucine, in Val di Sole, surrounded by the mountains of Trentino, such as the Cevedale group and the Presanella group. From the hotel you can reach the Skiarea of Marilleva Folgarida (8 km), Passo Tonale (15 km) etc.
The Pangrazzi family is happy to wait for you, where you can experience a lively hospitality and spend good days in the mountains, alone, in 2 or with the whole family! Every day is beautiful with different specialties.
deals
04/12 - 12/12/2021

from 830€ for 4 nights

04/12 - 12/12/2021

from 710€ per week

04/12 - 12/12/2021

from 880€ for 4 nights
Characteristics
Spend an unforgettable holiday in this hotel in Val di Sole in the amazing Trentino region with its breathtaking landscapes and hiking trails. In summer the valley is rich in excursion paths and offers many opportunities for exciting mountain activities.